After amassing 10 million sign-ups for its AI presentation tool in just nine months, Tome is releasing new features aimed at getting those users to stick around.
Tome can turn text prompts into multi-page slideshows, and it credits TikTok chatter as a big part of its quick takeoff. The new version supports lengthier text prompts while giving users more control over each slide's content and formatting. Future updates will let users import images and third-party data sources into their presentations.
Keith Peiris, Tome's CEO and cofounder, says the update reflects how generative AI can become more than just a novelty. While Tome went viral on the promise of generating entire slideshows with just a sentence of text, the new version tries to bring humans back into the loop.
"I think this is a huge step forward for making AI more useful," he says.
How Tome works
Tome presents users with a simple text box for describing the kind of presentation they want to create. The site then presents a choice of several formatting options and fills in each slide with AI-generated text and images. After that, users can modify the slides with their own text and images or use AI to make further refinements.
While users can still generate full slideshows with just a single prompt, Tome now allows for several stages of human intervention. First, it'll propose an outline for each page, so that users can add, remove, or rearrange their topics before generating their slides. Users can then choose between four layout options on a page-by-page basis.
[Image: Tome]
"The whole point of this is that you can iterate step-by-step with the LLM," Peiris says.
Tome is free for personal use, though users are limited to 500 AI instructions, or "compute credits," before they hit a paywall. A subscription that allows for unlimited AI usage costs $10 per month or $96 per year.
Who's it for?
Peiris says Tome has gained traction with startup founders, sales people, and college students. Even with AI's tendency to generate bland, generic text, he says Tome can be a useful tool for brainstorming. Whereas a program like PowerPoint might require people to come up with their ideas first and then build a presentation around it, Tome allows them to work backward, with AI providing the scaffolding on which to frame one's ideas.
"Even if you're an experienced practitioner of storytelling, that's a helpful construct," Peiris says.
Still, the approach has its limits. To create presentations that have something unique to say, users will need to be able to bring in their own data and content.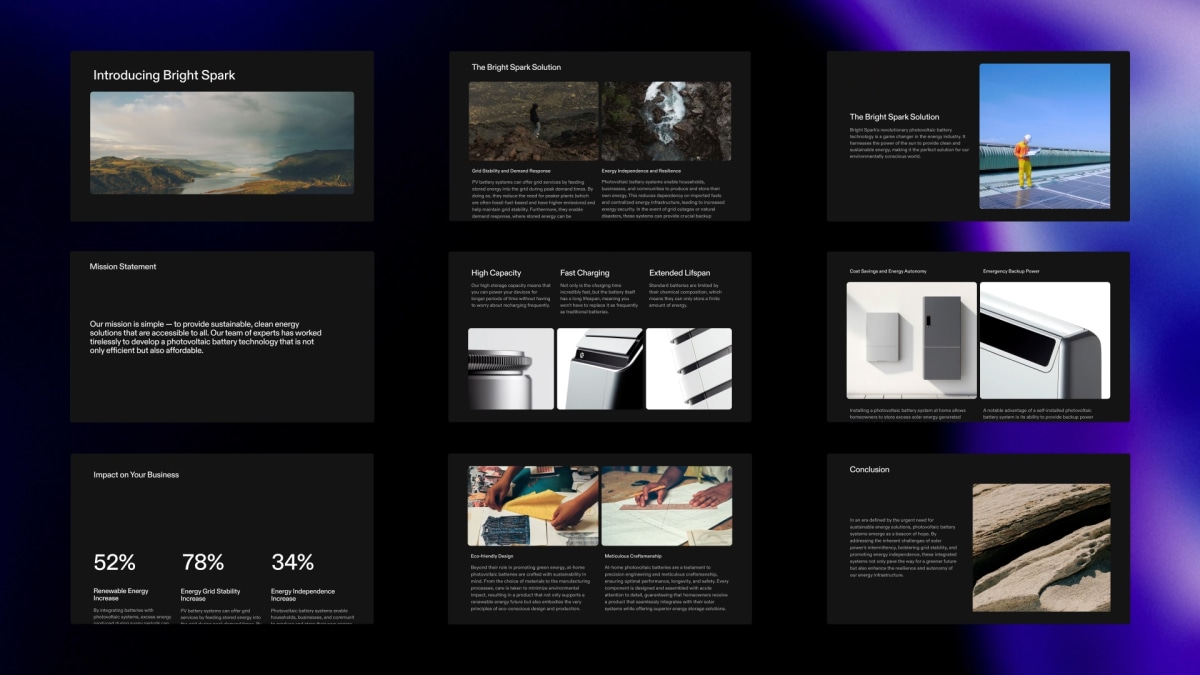 [Image: Tome]
To that end, Tome already has a nifty "Document to Presentation" tool, which lets users paste in multiple paragraphs of text to be summarized in slideshow form. Peiris says that in the coming weeks, users will be able to include images as well. The ability to import other data sources directly into Tome will follow within the next month or so.
If all goes to plan, this will allow users to generate even more sophisticated slides, including charts and graphs based on users' data.
"You should be able dump a Google Sheet or connect to your data warehouse and have it populate," Peiris says.
Staying a step ahead
Although Tome likes to boast of its 10 million registered users, the company won't say how many of them continue to use the service. Peiris acknowledges that Tome was frequented by some "AI tourists" in its early days, and that people in general had overblown ideas about AI can do with a simple text prompt.
"I think we've sort of had to walk back expectations of the industry," he says. "Even if you have a sentient being in front of you, it still can't predict what's in your head from three words that you say."
Still, he says Tome is starting to see a stronger lift in retention as users gain a more realistic understanding of what AI can do. The startup says billions of edits happen on its platform every month, and that Gen Z accounts for a third of its users.
The big question is whether Tome can stay relevant as larger companies launch their own AI presentation builders. Google's Duet AI for Workspace, for instance, can now generate Slides presentations using data from Sheets and Docs as part of a no-cost trial for enterprise customers, and Microsoft is previewing a way to create and edit PowerPoint slides with its Copilot AI tool.
Peiris counters that Tome is building up its own AI chops to compete. The startup's head of AI and machine learning, Ves Stoyanov, was a research scientist at Facebook's AI group for nine years. The company's other AI hires include Sarah Sachs, Robinhood's former head of generative AI and natural language processing, and Archana Sankaranarayanan, a former Googler whose team developed the personality for Google Assistant.
Tome is training its machine learning models to better understand what users want in their presentations and to be more consistent in its outputs. Peiris argues that building Tome around generative AI from the start will give it an edge against incumbents.
"You need to build this format where you have a semantic understanding of everything, and you need the LLM to produce it," he says. "I just don't think you can do that if you're iterating on PowerPoint from the 90s."
Peiris also points to the generational divide in Tome's user base as an advantage. Those users don't have ingrained habits from decades of PowerPoint and have been using Tome to build things like website designs, résumés, and mood boards.
"I think that this is the beginning of a new type of communication tool," he says.